One Mr Bala Umar, popularly known as A.B. Umar, has been suspended by the Kaduna State University (KASU), on Wednesday for allegedly soliciting sex for grade.
The suspension comes after a one-man protest at KASU by a female graduate of Ahmadu Bello University (ABU), Zaria, went viral and got the attention of the school management. The management met on Wednesday and set up a committee to investigate the allegations against Umar.
The lady, whose name was not given, alleged that Umar, who was sacked by ABU for sexual misconduct and later employed by KASU, was not fit to be a lecturer in any institution.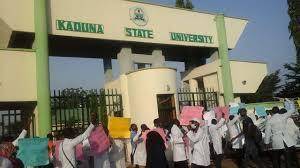 Prof. Abdullahi Ashafa, the Deputy Vice Chancellor (DVC), who chaired the meeting, said KASU had zero tolerance for such misconduct by its members or staff and would deal appropriately with anyone found wanting. He added that the incident did not occur in KASU, but the way the issue was being portrayed, made it look like the school was providing a safe haven for sex offenders